Breaking passwords – Delete – Unlock iPhone password, 7, 5 & iPhone 6
Bạn đang xem tại chi nhánh Hồ Chí Minh (Ở khu vực khác, hãy )
Price and warranty from 100,000 VND - 450,000 VND depending on the model, machine, and area. Please contact
Hotline Hồ Chí Minh 0909.650.650
Address: 1399 - 1401 đường 3 tháng 2, P.16, Quận 11, TP.HCM
Address: 122 Nguyễn Oanh, P.7, Quận Gò Vấp, TP.HCM (gần Cầu Vượt)
Address: 24 Trần Văn Kiểu, P. 10, Quận 6, TP.HCM
Address: 212 Đinh Tiên Hoàng, P. ĐaKao, Q.1, TP.HCM (Ngay Cầu Bông)
Address: 452 Lê Hồng Phong, P.1, Quận 10, TP.HCM (Ngã 3 Lê Hồng Phong - Vĩnh Viễn)
Call center advice 0909.650.650 (Only Vietnam, charges 1,000 VND / minute - cheaper than mobile calls)
Đăng ký tư vấn
Priority first
You need help?
Send a message
Or leave a phone number, we will call you now!
Service price Break passwords – Delete – Unlock iPhone password, 7, 5 & iPhone 6
150.000 ₫
* Price and warranty from 100.000 vnd – 450,000 vnd depending on carrier, model, region. You are viewing prices in ho chi minh CITY (Select other areain Ho Chi MinhBa Ria-VTNghe An, Binh Duong)
Breaking Passcode, unlock iPhone password, 7, 5, IP 5S, iPhone 6 cheap get instant in ho chi minh CITY.HCM, Ha Noi, Da Nang. Is service unlock password iPhone that you are looking for. When you accidentally forget your password, i.e. your iPhone will no longer able to interact with the employer, if you repeatedly enter the wrong password the machine will be disabled within 1 minute. The forgot password iPhone is one of the biggest trouble with iOS users.
Audio Mobile get breaking passcode, unlock iPhone password, 7, 7 Plus & iPhone 5
There are a number of ways to password, the iPhone will help you get rid of status on. However, the procedure is quite troublesome and not everyone can break, unlock password iPhone 7, 7 Plus is. If you do not have enough conditions to implement open password lock for your device iPhone, you should look to a repair shop reputable to proceed to break the lock, unlock password iPhone.
Service break the passcode, unlock iPhone password, 7, 5, 5s, iP 6, and the model your other iPhone
Inherently is known to be Smartphone line with high security features, the password setting for the iPhone 7, iPhone 6 will help you secure your personal data better. However, sometimes it makes you see troubles incredibly annoying when you forget the unlock password screen iPhone 7.
So how to remedy this situation, as well as the unlock password iPhone 7 when forget Passcode. Bar China Mobile will give some alternatives to you can crack, break password iPhone 7, 7 Plus.
The above ways require manipulation correctly, the false manipulation also can lead to these errors is not desired. To avoid the arising error, you should take the machine to the store credits to proceed to unlock password for iPhone 7.
A number of solutions to break the lock, unlock password iPhone 7, 7 Plus and the model other iPhone when forget Passcode
Way 1: Restore your device when you already have a previous backup of the device.
Note: this Way is only done when the iPhone 7 of you did not enable Find My iPhone.
Step 1: Your and iTunes software installed the latest version on your computer.
Step 2: connect iPhone 7, iPhone 5, 6 to a computer with iTunes through the gate the charging cable and press the icon the phone on iTunes.
Step 3: Find to the Backup, you select the storage area This computer and click Back Up Bow to create a backup of data stored on the computer.
Step 4: After the backup is complete, you continue to click Restore Backup, at this time a small dialog box will appear, here you select the backup and click Restore to proceed with restore.
After completing the steps, you were able to unlock password iPhone 6, or break the lock password iPhone 7 without entering the passcode.
Way 2: Break the Passcode, unlock iPhone password, 7, 5 and iPhone 6 with iCloud
First you visit the page iCloud.com and login your iCloud account is used on the iPhone need to break the lock, open the password lock.
Next you choose the Find iPhone (Find my iPhone) to turn off Find iPhone and proceeded to break the lock password iPhone.
In part manager Find iPhone out, you select All Device and find the device name that you want to unlock the password.
Here a dialog box will appear, you select the Erase iPhone (Erase iPhone) to delete the data remotely. If you have backup data on iCloud, you can restore the data backed up and set a new password after deleting all the data.
The program will show a message asking you to confirm the process, press Erase to continue through the unlock password iPhone 7 as well as the iPhone password, iPhone 5, iPhone 6 when forgot Passcode
Way 3: unlocking, break password iPhone using Recovery mode
Step 1: connect your iPhone with computer using a USB cable and run the iTunes software.
Step 2: Next you turn off the iPhone 7 by press and hold Power (Source) until the current slider over to turn off the device.
Step 3: In this step you need to transfer the computer to DFU mode by pressing Home key and at the same time hold the power button with volume down key for 10 seconds. Continue to hold the volume down button and release the power button when iTunes notifications.
Step 4: On iTunes you hold Shift and click Restore iPhone.
Step 5: A dialog box will appear, you select file, backup or file firmware nearest of the device. If you do not have any file in 2 file this, you just need to click on Restore iPhone and choose Restore and Update.
Process restore the device will take approximately 45 minutes, after the restore is complete, you try to check whether the password has been lost or has not, okay.
Way 4: Destroy, key, password iPhone, unlock iPhone password, 7 with China Mobile
If the above does not help you to break password iPhone is, you should bring the machine to the China Mobile to be unlock password iPhone 7. Bar China Mobile is most of all customer reviews is a address iPhone repair, warranty credits.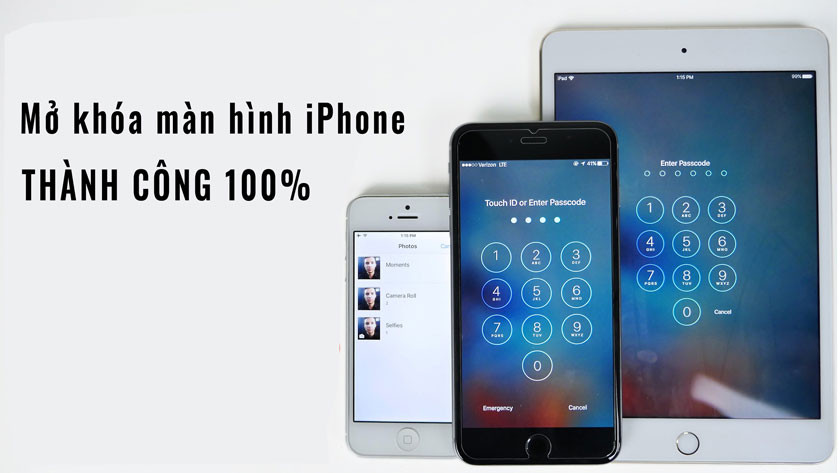 Unlock screen iPhone a success rate of 100%
Always eager to bring hnafg the best service along độin team course consultants support answered completely for free. Directly make get break password, unlock password iPhone 7 for you
The model iPhone Bar Mobile support, discover passwords screen unlock password:
iPhone 5, 5s
iPhone 6, 6 Plus & iPhone 6s, 6s Plus
iPhone 7, 7 Plus
iPhone 8, 8 Plus
Commitment when break iPhone password, 7, 5 & iPhone 6
Committed to open Passcode by high-tech equipment, absolutely do not have to unplug the machine, bung machine.
Unlock password iPhone 7, iPhone 6 limited get the status Restore the forgotten password screen iPhone.
Delete, break password iPhone screen grab attached of the day.
After unlocking the iPhone screen can create a new password.
Gifts Gift Card discount when using service at China Mobile
For more information, please contact:
Contact switchboard: 0909.650.650 (only 1,000 vnd / minute). Or 0909.650.650
Thank you for your interest services, unlocking, breaking passcode, unlock iPhone password, 7, 5 & iPhone 6 and more iPhone model to another. We expect that with the services of the center provide can help our customers overcome the problem.
Keyword search related:
break passcode iphone 7, hcmc
break the lock password iphone 7 how much money
pass iphone 5 cheap
open pass iphone 6s get instant
lock iphone 6 plus ha noi
unlocked iphone 5s now