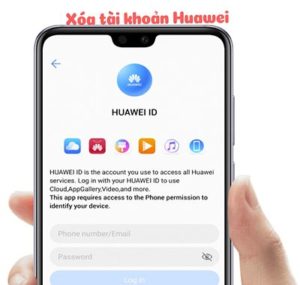 Delete account Huawei ID
Bạn đang xem tại chi nhánh Hồ Chí Minh (Ở khu vực khác, hãy )
Price and warranty from 100,000 VND - 450,000 VND depending on the model, machine, and area. Please contact
Hotline Hồ Chí Minh 0909.650.650
Address: 1399 - 1401 đường 3 tháng 2, P.16, Quận 11, TP.HCM
Address: 122 Nguyễn Oanh, P.7, Quận Gò Vấp, TP.HCM (gần Cầu Vượt)
Address: 24 Trần Văn Kiểu, P. 10, Quận 6, TP.HCM
Address: 212 Đinh Tiên Hoàng, P. ĐaKao, Q.1, TP.HCM (Ngay Cầu Bông)
Address: 452 Lê Hồng Phong, P.1, Quận 10, TP.HCM (Ngã 3 Lê Hồng Phong - Vĩnh Viễn)
Call center advice 0909.650.650 (Only Vietnam, charges 1,000 VND / minute - cheaper than mobile calls)
Đăng ký tư vấn
Priority first
You need help?
Send a message
Or leave a phone number, we will call you now!
Price list service Delete account Huawei ID
| | | |
| --- | --- | --- |
| STT | Model | Price |
| 1 | Delete account Huawei ID | Contact |
* Price and warranty from 100.000 vnd – 450,000 vnd depending on carrier, model, region. You are viewing prices in ho chi minh CITY (Select area otherHo Chi MinhHa NoiDa Nang, Vung tau, Nghe An, Binh Duong, Ninh Binh)
Delete account Huawei ID will not easy bit if we are not the expert and don't have the equipment, software, support comes. This article will hint you address delete account Huawei professional in Hanoi and ho chi minh CITY.HCM.
Huawei what is the ID?
Like iCoud iPhone's Flyme of Maizu, then Huawei ID central role to play in the synchronization of data and ensure the safe keeping for the system through absolute security. If you forget your password or account Huawei, you will see quite a lot of nuisance. Delete account Huawei, is you have to done immediately if the case, unfortunately this happens to be able to open the machine, set up a new account right on your computer.
Huawei ID can function protect your phone and sync data
Delete address Huawei at the prestigious Ha Noi and ho chi minh CITY. HCM
Currently, Thanh Trung Mobile service provider to delete the account Huawei ID bring satisfaction for customers with our team of professional staff and physical facilities, and equipment to repair most modern, most advanced country.
The phone line Huawei service remove account Huawei ID:
Huawei H8, P8 Max
Huawei Mate
Huawei P20, P20 Plus P20 Pro, P20 Lite
Huawei Mate 10, 10 Lite, 10 Pro, 10 Plus, 10 Porsche Design
Hawei Y7, Y7(Prime) 2018
Huawei Honor 7i, 7X, 7C
Huawei Mate 20, 20 Pro
Huawei Y9 2018
Huawei honor 9, 9 Lite
Huawei Nove 3e
Huawei G7 Plus
To with Audio Mobile, you will be:
Our team of technical consultants carefully about the service to delete the account Huawei includes: technical, time, cost and the commitment of the Chinese Mobile customers.
Then, you can sit, wait, or timer to get back your phone. With modern technology, the uninstall Huawei ID, very quickly, consuming less time.
Bar China Mobile is committed to service, delete account, Huawei best on the market today
These factors make China Mobile become address number 1 service provider "Delete account Huawei ID"
Our team of professional staff: always friendly with customers, available sãng answer any questions, the needs of the customer. Is customer service is huge fun of us.
Quality guaranteed: main components hang, modern technology is regularly updated according to the movement of the market.
Edit directly, get it with guaranteed quality, commitment to satisfied customers.
And the last factor makes payment China, Mobile get more emotional of the customer that the price is cheap compared to the repair address other phone. Not only that, occasionally the customer is also kept beautiful bring about, was so much fun.
The repair service, Huawei phone other
In addition to services delete account Huawei ID, we also provide the service:
Replacement glass touch Huawei.
Replace the battery Huawei.
Replacement screen Huawei.
The repair services to Huawei in China Mobile
The components are the main products, ensuring quality and warranty.
Visit now the Website of the China Mobile or related to the number of power thọại hotline of the center if you have any questions, fret about the repair services of the us.
Contact hotline: style="font-size: 13pt; color: #ff0000;">0909.650.650 (only 1,000 vnd / minute)