Pressed, replace front glass iPhone 5, 5S, 5C, SE
Bạn đang xem tại chi nhánh Hồ Chí Minh (Ở khu vực khác, hãy )
Price and warranty from 100,000 VND - 450,000 VND depending on the model, machine, and area. Please contact
Hotline Hồ Chí Minh 0909.650.650
Address: 1399 - 1401 đường 3 tháng 2, P.16, Quận 11, TP.HCM
Address: 122 Nguyễn Oanh, P.7, Quận Gò Vấp, TP.HCM (gần Cầu Vượt)
Address: 24 Trần Văn Kiểu, P. 10, Quận 6, TP.HCM
Address: 212 Đinh Tiên Hoàng, P. ĐaKao, Q.1, TP.HCM (Ngay Cầu Bông)
Address: 452 Lê Hồng Phong, P.1, Quận 10, TP.HCM (Ngã 3 Lê Hồng Phong - Vĩnh Viễn)
Call center advice 0909.650.650 (Only Vietnam, charges 1,000 VND / minute - cheaper than mobile calls)
Đăng ký tư vấn
Priority first
You need help?
Send a message
Or leave a phone number, we will call you now!
Service price Pressed, change the glass iPhone 5, 5S, 5C, SE
| STT | Model Name | The glass |
| --- | --- | --- |
| 1 | iPhone 5 | Liên hệ |
| 2 | iPhone 5S | Liên hệ |
| 1 | iPhone 5C | Liên hệ |
| 4 | iPhone 5SE | Liên hệ |
* Price and warranty from 100.000 vnd – 450,000 vnd depending on carrier, model, region. You are viewing prices in ho chi minh CITY (Select other areain Ho Chi MinhBa Ria-VTNghe An, Binh Duong)
There are many centers that can provide services on behalf of glass iPhone 5, iPhone 5S & 5C for you. But not just as simple as that, you should also have the knowledge and note certain when choosing by the pressed glass is not too difficult. But technology pressed glasses are different leads to different quality.
The glass of the iPhone is quite cheap, only 1/5 if compared with the price you pay when replacing the glass. See pricing table replacement glass iPhone here.
There are kinds of faceted glass iPhone 5 how can juicing be?
Glass iPhone 5 or the iPhone others have the made the same. There are no sensors or wires should cost cheap, effects of layered glass is just to protect the screen of the machine.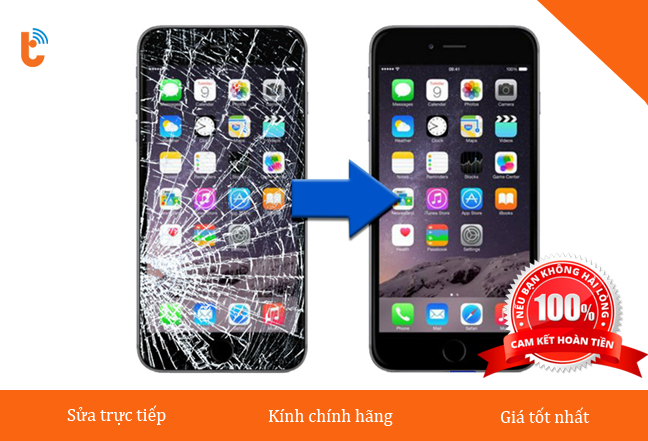 The type of glass used in the central 99% is the same, also there is 1 number where the use of glasses, less than little, but even craftsmen are difficult to distinguish and really is not important. But the biggest difference lies in the technology of pressed glass and glue technique used.
New technology, pressed glass vacuum guarantee 100% no foams air openings. The use of glue year dedicated make the grade sensor and the glass fastened with each other. Therefore, you need to note the choice of major venues, professional to make, if not dissection, many times leads to bad grades touch is going to replace iPhone 5 screen, it would be a waste.
Signs you will be forced, on behalf of glass iPhone 5, 5S, 5C?
The screen still displays but the glass broken open, is warping or peeling.
Touch longer be used, but the phenomenon is disorder, sometimes freeze, lost touch at no.
Just broken glass, screen still display normal, but affects touch makes the iPhone 5 touchscreen not responsive, touch slow. Even paralyzed touch a that point, the heavier is paralysis of the entire sensor.
⇒ Here are 3 signs most recognizable. A number of case falling broken glass too much can damaged 1 corner of the screen also may need to replace the whole screen.
Face photo glass iPhone 5 before and after it is pressed glass.
Is an electronic device, so when the machine is fall break, it can only corrupt class face current glasses but can fall break too strong and affect other details. The details of this can be damaged in the future or the replacement process. When it happens, the fall broken iPhone screen we should check out touch still use it? If still good then just replace the glass iPhone, just a cheap save which is still like new.
Pressed glass for iPhone 5S, IP 5C, IP 5 have different what?
The answer is no. We like each other.
Due to the screen size of all 3 lines of this machine is the same, including the iPhone 5 SE later introduction. All are general use 1 type of face glasses. All using retina screen, 4 inch 16:9 ratio that's all.
Why prices change, pressed glass of the iPhone 5S, IP 5SE, Ip 5C back different?
As you can see above, the price components of all 4 kinds of sun glasses are equal, but the cost of the replacement and warranty back different why?
In the repair process for customers, whether using the latest machinery. But the rate of damage and the difficulty of the high life, high values bigger. In the dissection process glass, only 1 small negligence also lead to damage induction. This is why when you go to fix iPhone, price changes and warranty has fluctuated slightly from 50,000 vnd to 100,000 vnd.
Glass after molding the glass into touch will be mounting return air iPhone 5
Committed when replacing the front glass iPhone 5, 5S, 5C at China Mobile
Always strive for improvement and constantly improve the quality of services to you have a most contented experience. Is leading system in ho chi minh CITY with nearly 10 years of experience, with more than 300,000 devices is successfully processed.
We are always listening and committed to bring you satisfaction beyond your expectations with:
Handle all errors, incidents on the spot, quickly, punctually
Diagnostic accuracy, correct patient, treatment best
Warranty complete repair procedure, compensation of any damage
Components replace front glass iPhone 5 standard, genuine
Warranty 12 months warranty, bubbling, openings, bubbles, series.
Refund 100% if you are not satisfied, no commitment.
Policies, customer appreciation, such as Giftcard, loyalty, exclusive get computer at home.
Images branch Bar China Mobile in 1399, 3/2 Street, District 11. HO CHI MINH CITY
To China Mobile to get the best service! Any questions about the service change, pressed glass iPhone 5, 5S, 5C you can contact switchboard advice, comment below or chat live with our staff via facebook.
Keyword search
price replace glass iphone 5
sun glasses iphone 5 made of what
front windscreen for ip
pressed glass ip 5s