Replace battery Samsung Galaxy Note 3
Bạn đang xem tại chi nhánh Hồ Chí Minh (Ở khu vực khác, hãy )
Price and warranty from 100,000 VND - 450,000 VND depending on the model, machine, and area. Please contact
Hotline Hồ Chí Minh 0909.650.650
Address: 1399 - 1401 đường 3 tháng 2, P.16, Quận 11, TP.HCM
Address: 122 Nguyễn Oanh, P.7, Quận Gò Vấp, TP.HCM (gần Cầu Vượt)
Address: 24 Trần Văn Kiểu, P. 10, Quận 6, TP.HCM
Address: 212 Đinh Tiên Hoàng, P. ĐaKao, Q.1, TP.HCM (Ngay Cầu Bông)
Address: 452 Lê Hồng Phong, P.1, Quận 10, TP.HCM (Ngã 3 Lê Hồng Phong - Vĩnh Viễn)
Call center advice 0909.650.650 (Only Vietnam, charges 1,000 VND / minute - cheaper than mobile calls)
Đăng ký tư vấn
Priority first
You need help?
Send a message
Or leave a phone number, we will call you now!
Price battery Replacement service Samsung Galaxy Note 3
| STT | Model Name | Battery |
| --- | --- | --- |
| 1 | Samsung Galaxy Note 3 /n9000 | 250.000 ₫ |
| 2 | Samsung Galaxy Note 3 Neo | 250.000 ₫ |
* Price and warranty from 100.000 vnd – 450,000 vnd depending on carrier, model, region. You are viewing prices in ho chi minh CITY (Select other areain Ho Chi MinhBa Ria-VTNghe An, Binh Duong)
You are searching for an address change battery Samsung Galaxy Note 3 genuine? Your phone is showing signs of decline quick battery use time is not how long? Plug the charger, it is a short time was hot air. Fast charger fills that use also quickly.
If you are experiencing one of the signs mentioned above, I recommend you go change the battery Samsung new right to ensure safe and uninterrupted communication abruptly by the phone runs out of battery. You can trust to repair center mobile phone Bar Mobile.
Bar China Mobile's repair centre has the big brands, have many years of experience in the industry, replacement components and repair 100% imported genuine. Currently the center has 6 repair facility in the city of Ha Noi and ho chi minh CITY.HCM, you can to the nearest address to facilitate the replacement battery Samsung Galaxy Note 3.
Contact hotline: 0909.650.650 (only 1,000 vnd / minute)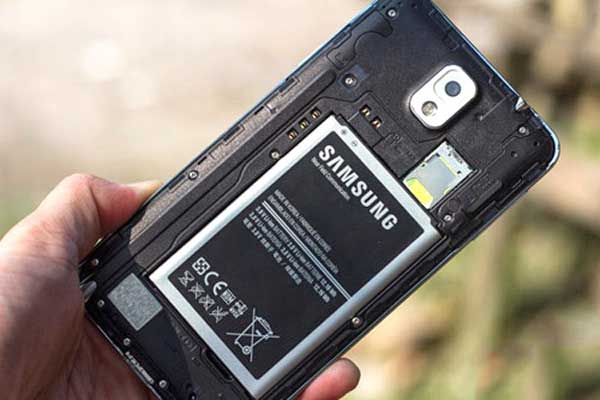 Replacement phone battery Samsung Galaxy Note 3
Cause the phone needs replacement battery Samsung Galaxy Note 3
The demand uses the phone a lot, constantly, or phone was used for long years led to the battery is bottles, broken and in need of replacement is evident. However, there are many causes led to the promoted longevity of the battery short. Let us point the a number of routines that use your phone is not good to have a way to use science more than me!
The habit of using your phone : play games, listen to music, watch movies, read newspapers, surf the web or sms, listen to call while phone is charging sources are the causes leading to the you need as soon as replace battery Samsung Galaxy Note 3.
Habit battery charger: the battery charger has not fully pulled out for use, charging the battery too full, too time allows ( the habit of charging your phone over night).
The careless that your phone is impact lead to broken battery.
Or due to the battery not genuine, quality poor battery is also objective reasons.
The habit of not paying attention towards the battery to depleted battery source to trap source many is also cause impact causing the battery life diminished and need to change battery Samsung Galaxy Note 3 soon.
Audio Mobile professional repair, phone replacement parts genuine, to refer to the details of service change the glass Galaxy S7 has how much money, please visit the website of the China Mobile.
Just charge the battery just using the phone very bad battery and dangerous
Process replace battery Samsung Galaxy Note 3 in China Mobile
Bar China Mobile has always focused on brand image and service quality of the center. So any one repair service, how horny are applied rigorous process and course to ensure quality of service is the best. With a team of professional staff, enthusiastic to certainly you will be satisfied. The process of replacing the battery Samsung is takes place in 5 steps.
B1: receive defective products, measuring the damage, counseling repair services.
B2: the Customers agree, written votes of repair, get components for guests to check out
B3: Check the components and put in repair area
B4: Replacement battery Samsung Galaxy Note 3 is finished, the phone will be staff cleaning

free

.
B5: payment, written warranty, gift card, gift card

100,000 vnd.
Not just service replace the battery Bar phone, Chinese Mobile is center specializing in repair of Samsung, very diverse sample code the telephone line and the service you can view more on the website of the China Mobile.
Repair center phone Of China Mobile
Questions faq when customers change phone battery in China, Mobile
Question 1: Price battery Samsung Galaxy Note 3 is how much?
Hi, thank you for trusting Elegant Mobile. Currently in China, there're many promotions, for details please contact SĐT_0909.650.650
Question 2: Replace the battery then the warranty is how many month?
Thanh Trung building policy long-term warranty. You replace the battery phone Samsung Galaxy Note 3 at the center will be warranty in about 6 months. When to warranty you only need to bring hieu warranty and prove to the people that will be free warranty period, warranty. Thank our customers have always been in favor of repair services of China Mobile, especially battery replacement service Samsung Galaxy Note 3 of us!
Photo representative