Replacement glass touch Lumia 620
Bạn đang xem tại chi nhánh Hồ Chí Minh (Ở khu vực khác, hãy )
Price and warranty from 100,000 VND - 450,000 VND depending on the model, machine, and area. Please contact
Hotline Hồ Chí Minh 0909.650.650
Address: 1399 - 1401 đường 3 tháng 2, P.16, Quận 11, TP.HCM
Address: 122 Nguyễn Oanh, P.7, Quận Gò Vấp, TP.HCM (gần Cầu Vượt)
Address: 24 Trần Văn Kiểu, P. 10, Quận 6, TP.HCM
Address: 212 Đinh Tiên Hoàng, P. ĐaKao, Q.1, TP.HCM (Ngay Cầu Bông)
Address: 452 Lê Hồng Phong, P.1, Quận 10, TP.HCM (Ngã 3 Lê Hồng Phong - Vĩnh Viễn)
Call center advice 0909.650.650 (Only Vietnam, charges 1,000 VND / minute - cheaper than mobile calls)
Đăng ký tư vấn
Priority first
You need help?
Send a message
Or leave a phone number, we will call you now!
Table service prices Replacement glass touch Lumia 620
| Model Name | Front glass touch | Screen | Screen left |
| --- | --- | --- | --- |
| Nokia Lumia 620 | 200.000 ₫ | 700.000 ₫ | 400.000 ₫ |
* Price and warranty from 100.000 vnd – 450,000 vnd depending on carrier, model, region. You are viewing prices in ho chi minh CITY (Select other areain Ho Chi MinhBa Ria-VTNghe An, Binh Duong)
China Mobile would like to introduce to you the services on behalf of glass Lumia 620 genuine get right. In the process of using guests accidentally dropped, dropped phone resulting in the phone is damage on the front glass or touch, to be immediately corrected, please contact us.
We specialize in replacement glass touch Lumia 620. Please use our service to Lumia 620 your is care best.
Service replacement glass Lumia 620 genuine
Contact switchboard: 0909.650.650 (only 1,000 vnd / minute). Or 0909.650.650
Information services on behalf of glass Lumia 620
Size: 3.8 inches
Model applicability: Nokia Lumia 620
Note: Prices of our services do not include the disassembly, please contact our Hotline: 0909.650.650 to know more detail information.
The warranty replacement service touch Nokia Lumia 620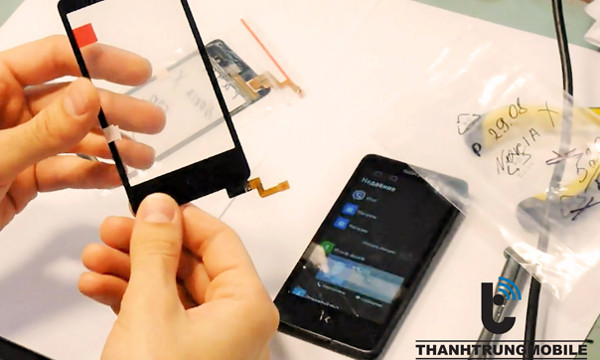 Change new products for customers in the first 7 days from the date of customers to replace the front glass Lumia 620
The warranty period lasts 6 months, during this period if meet any problems about the products please contact with us
Case not warranty products to customers
* Product expired warranty
* The product has signs of disassembly, repair, warranty stamp, is no longer intact
* Products damaged due to error from the customer, such as falling, broken, strong impact or roi down to the water
=> With warranty policy clear, you can rest assured when using the services of touch Lumia 620 our.
Process warranty on behalf of glass Lumia 620
Technical staff check the warranty card, warranty stamps see the longer term or not –> test overview –> Check details glass surface of the Nokia Lumia 620 –> Proceed warranty for customers and replace the glass touch Lumia 620 new –> test machine the last time and handed to guests
The commitment of The Chinese Mobile services touch Lumia 620
Use components genuine ensure quality components to replace the front glass Lumia 620 clear origin
Repair time Nokia fast, customers can take the following 45 minutes. We encourage customers to directly track the process of work
Staff work enthusiastically,thoughtfully, carefully protected machine to the customer.
The price of services on behalf of glass Nokia cheapest in the area, prices are always constant updates to be always lower than the market
No swapping components of the customer in the process of replacing the glass touch Nokia Lumia 620
Customers can view direct employees rather touch Lumia 620
The shop is equipped with modern machinery, the most advanced today
Some information about the Nokia Lumia 620
Nokia Lumia 620 is a cheap Smartphone range of Nokia Machine using the operating system Windows Phone 8. However, with the design on the glass is quite thin so easy to break the glass due to impact and to change the glass touch Lumia 620.
Lumia 620 processor use 2 Qualcomm Snapdragon S4, 1 GHz, 512 MB of RAM memory storage 8 GB but the user only have about 3 GB, touch screen, ultra-sensitive size 3.8 inch resolution 800 x 480 pixels, pixel density of 246 ppi, discrete graphics Adreno 305, main camera 5 megapixel.
Supports video standard HD 720p reach 30fps, secondary camera 0.3 megapixels and battery capacity of 1,300 mAh.
Come with us, you will feel satisfied with the impact the professionalism of the employees, also with quality machine after changing. Bar China Mobile always put the satisfaction of our customers first, go to China Mobile to get the best service! Any questions about the service on behalf of glass Lumia 620, please contact:
Contact switchboard: 0909.650.650 (only 1,000 vnd / minute). Or 0909.650.650
Related keywords: cost of replacement glass lumia 620 games how much